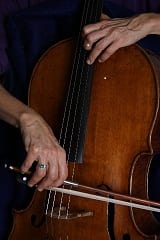 Lindy has been teaching with professional cellist Kathy Foster since 2009. With Kathy leading the musical repertoire and Lindy supporting by teaching Awareness Through Movement lessons; together they support cellists, adult and youth, for optimal learning and performance each summer in Spartanburg, South Carolina. In 2017 they joined CMOTH-Chamber Music On The Hill at Converse College where Lindy supported both the cellists in the annual Cello Immersion and also taught Awareness Through Movement lessons to the other chamber musicians.
Guiding musicians through a self discovery movement process as they expand their musical craft provides a greater potency in satisfying a developing love for making music!
Because of Covid-19, the 2020 Music events are cancelled.